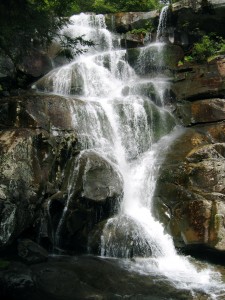 Distance: about 8 miles.
Difficulty: moderately difficult.
Only serious day hikers will want to attempt the climb to Ramsey Cascades. Not only is it an 8-mile round trip, the trailhead is 95 miles from our cottage. And those are long miles that include driving through the park and then through Gatlinburg. (Follow US 321 east from Gatlinburg, turn right at the Greenbrier park entrance about six miles from downtown, and follow the access road about five miles to the trailhead.) In compensation, the hike is one of the most beautiful in the Smokies and leads to its tallest waterfall (90 feet) that can be reached by trail.
The Ramsey Cascade Trail begins, somewhat deceivingly, on a well-maintained former logging road that can be walked abreast for nearly all of its 1.5 mile length, gradually ascending through mixed hemlock and hardwood forest along the Middle Prong of the Little Pigeon River and providing numerous glimpses of water flowing over rocks.
The remaining 2.5 miles of the trail are more strenuous and follow Ramsey Prong, a tributary of the Pigeon. The trail wends its way over numerous rocks and tree roots. (We saw a young woman do the whole trail in flip-flops but certainly wouldn't recommend it.)
At about 2 miles, the trail crosses Ramsey Prong on a long foot log—a great place for photos. You then pass through one of the largest areas of virgin forest in Great Smoky Mountains National Park, a section that has hemlock and yellow-poplar of a size comparable to those in Joyce Kilmer Memorial Forest.
At about 3 miles, you cross another long foot log and then take two minimal rock hops before moving away from the sound of rushing water. When the sound returns, it's easy to believe that you are hearing the falls themselves and that the cascades will suddenly appear around the corner. Actually, there's more steep ascent and a winding passage through large boulders before the falls finally come into view—along with a warning about the necessity of keeping an eye on your children.
Ramsey Cascades are spectacular but also popular. (Not everyone has to drive 95 miles to reach the trailhead; it's less than a dozen miles from the touristy streets of Gatlinburg.) You will probably have to share the view with others. Still, we once ate a late lunch in front of Ramsey Cascades in total solitude, our eyes glued to the falls and our ears filled with the sound of "many waters."