Ramsey Cascade in the Great Smoky Mountain National Park is an impressive splash of water, but it's also an eight-mile roundtrip hike and on the "wrong" side of the Smokies from Robbinsville. Falls Branch Falls is only slightly lower, much nearer by road, and only a 2.6-mile roundtrip hike.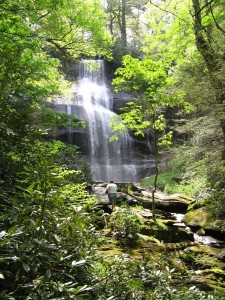 Falls Branch is in the Citico Creek Wilderness, with a trailhead on the Cherohala Skyway, and it is approximately 29 miles from Robbinsville and about 1.4 miles west of the North Carolina-Tennessee border. Maps refer to the parking area as West Rattlesnake Rock, but you may find no signage at all. Two trails quickly diverge from the trailhead, and the Falls Branch Trail [87] bends to the left.
For the first .9 mile, the trail descends easily enough on an abandoned road, although it's rocky under foot and can be boggy in places. By contrast, the final .4 mile is a scramble steeply down (and on return, up) rocks and roots. Perhaps the dearth of signage is a deliberate device of the Forest Service to discourage the terminally sedentary from attempting a hike that looks a lot easier than it is.
Except during the late summer when the branch virtually dries up, the falls is remarkable, especially considering the diminutive stream from which it arises. The trail also passes through a pocket of virgin forest that includes giant hemlock trees, and their existence sometimes less than a half mile from the roar of motorcycle engines on the Skyway makes them seem that much more special.