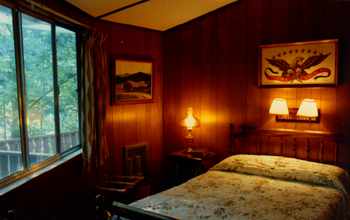 What's There?
Our twelve-sided cottage has two bedrooms (one with a queen-size bed and the other with a double bed) and a connecting bath, a fully equipped kitchen, and a living room with a fireplace, an air conditioner capable of cooling the living area but not the bedrooms, a small TV (with no cable or satellite service—which means reception is poor), and a VCR.
Our Renters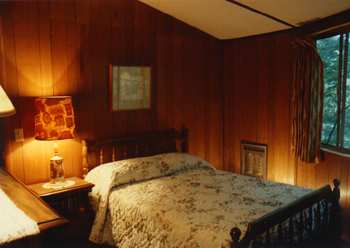 We rent mainly to our friends and to members of the extended Bob Jones University family of students, faculty/staff, and alumni.
Availability
Rates are $320 a week or $50 per day. From Thanksgiving through the end of March we winterize the cottage and do not rent it. (Smoky Mountain weather is unpredictable; during the winter we've worked at the cottage in our shirtsleeves—and also when it's been 5 degrees above zero. We once entertained guests on April 1 during a snowstorm.) Weekly rentals generally run from Sunday to Sunday. Check-out time is 2 PM and check-in time is 4 PM, unless you make other arrangements.
Deposits
A $50 deposit is required to make a reservation when renting for four or more days. A $25 deposit is required to make a reservation for three or fewer days. The balance is due when you pick up the key or have it mailed to you. If your plans change, we'll refund half the deposit if someone else rents the week.
John Matzko
17 Profs Place
Greenville, South Carolina 29609
You may also reserve the cottage and pay balances via PayPal.
Two important points:
We do not allow smoking.
You must clean the cottage before you leave. Having Cottage guests clean the Cottage before
they leave permits us to maintain low rental rates.
A number of houses in the Lake Santeetlah community are rentals. If you're looking for a more conventional rental arrangement, a good place to start is the vacation rental page of www.cherokeerealty.com.