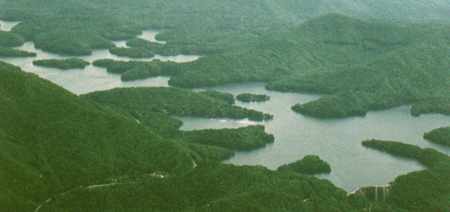 The lake surrounding the Cottage
The Cottage sits on a peninsula which extends into Lake Santeetlah. Created in 1928 for Alcoa, Santeetlah joins nearby lakes Fontana and Cheoah in the TVA dam system. About 80 percent of the shoreline is public property under the jurisdiction of the U.S. Forest Service.
The Town of Lake Santeetlah
The Cottage is not only near Lake Santeetlah, it is also in Lake Santeetlah. The town of Lake Santeetlah incorporated in 1988 in order to gain control over its roads and water system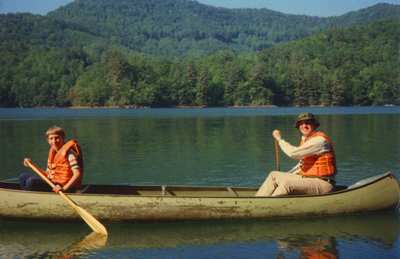 Lake attractions
There is a sixteen-foot steel canoe at the cottage as well as life jackets and paddles. Motorboats and other watercraft may rented at nearby Santeetlah Marina. The Forest Service maintains a number of primitive camping sites around the lake, and birders have reported seeing osprey, spotted sandpiper, great horned owls, green herons, prothonotary warblers, and red crossbills.
Lake safety
Because Lake Santeetlah is man-made, it drops as precipitously as the mountains around it. The lake is more than two-hundred-feet deep in places. Wear a life jacket.
Free swimming area
The U.S. Forest Service maintains a free family swimming area and boat ramp at Cheoah Point, less than a mile from the cottage.
Fishing
Lake Santeetlah has a variety of fish, including smallmouth bass, largemouth bass, walleye, bluegill, brown trout, and rainbow trout. Fishermen will need a North Carolina fishing license, available in Robbinsville, at the Santeetlah Marina, or over the phone.