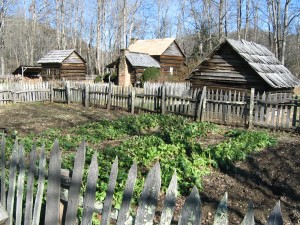 The Mountain Farm Museum, adjacent to the Oconaluftee Visitor Center at the southern entrance to Great Smoky Mountain National Park, is a collection of late nineteenth-century farm structures, largely assembled from locations throughout the park and moved to the banks of the Oconoluftee River before the museum opened in 1953—although the vast Enloe/Floyd barn is original to the site.
Buildings include the neatly constructed Davis cabin, the barn, a woodshed, an outhouse, a bee gum stand, a meat house, an apple house, a springhouse, a blacksmith shop, a chicken house, a pigpen, a sorghum mill, a corncrib, and a gear shed.
Although no Smoky Mountain farm probably had all these structures, the buildings serve as a grander-than-average representation of structures used by all Smoky Mountain farm families at the turn of the twentieth century. During the summer months, crops are cultivated and farm animals brought to the site.
Some scenes from the 1955 Disney blockbuster, Davy Crockett—King of the Wild Frontier were shot in and around the Davis cabin.