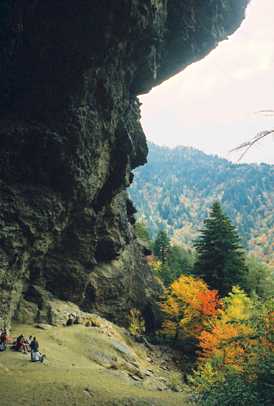 Hiking to LeConte Lodge via Alum Cave Trail
Distance: Alum Cave Bluffs, 2.2 miles (3.5 km); to LeConte Lodge, 2.8 additional miles (4.8 km)–5 miles (8 km) total.
Difficulty: moderate to strenuous.
From the trailhead to Arch Rock
The trailhead for Alum Cave Bluffs/LeConte Lodge is about 20 miles north of Cherokee, the town at the southern entrance of the Great Smoky Mountains National Park. Around 1.3 miles (2 km) into the hike, steep stone steps take the trail up through Arch Rock.
Alum Cave Bluffs to LeConte Lodge
Alum Cave Bluffs towers over the trail at 2.2 miles (3.5 km). Here many hikers eat lunch and turn back. But for even more impressive views from one of the tallest mountains in the Smokies, continue on another 2.8 miles (4.8 km) to LeConte Lodge at the top of Mt. LeConte. Although it usually takes more than three hours to make the steep climb, the descent requires only about two hours.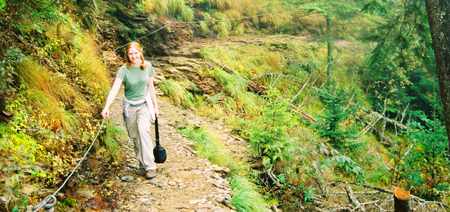 Flora & Fauna
The Alum Cave Bluffs trail to LeConte Lodge begins in hardwood forest with rhododendrons and large hemlocks. After the Bluffs the trail gets steeper and rockier—at some points cables provide handrails around potentially slippery rocks—but the thinning forest allows for many beautiful views. Also apparent is the devastation wrought by the balsam woolly adelgid, an exotic insect that kills Fraser firs. Nevertheless, at certain times of year, the firs that remain make the air fragrant with a Christmas tree-like smell.
LeConte Lodge
Construction on LeConte Lodge began in 1926, several years before the creation of Great Smoky Mountains National Park. Because it is accessible only by trail—llamas pack in the food and supplies—and because it is the Smokies' only hostelry, LeConte Lodge is a bit pricey, and reservations must often be made a year in advance (see the LeConte Lodge homepage). With an early start a day-hiker can still enjoy the views and take a break in one of the many rocking chairs before heading back down the mountain.