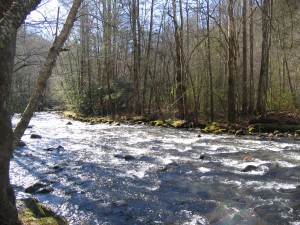 Smokemont Loop Trail is a moderate hike of about six miles with about a thousand feet of elevation gain. The trail is divided into two unequal segments. Hiking counterclockwise from the Smokemont Campground, Bradley Fork Trail follows an old road along Bradley Fork, a tributary of the Oconaluftee. Like the latter, Bradley Fork is a broad, swift, and shallow stream with low banks.
At about two miles, the trail crosses the fork on a long, photogenic foot log, and the trail officially becomes Smokemont Loop Trail.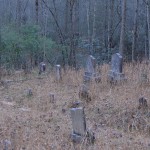 Almost immediately the trail begins a moderately steep climb up Richland Mountain into mixed hardwood forest, which is noted for its spring wildflowers. Further climbing brings the trail to the ridge. Although there are no spectacular viewpoints, glimpses of the landscape to the east may be enjoyed, especially in fall and winter. The descent is also moderately steep. Just before returning to the Smokemont Campground, the trail passes the small, partially overgrown Bradley cemetery and ironically concludes with the crossing of a pre-park, 1921 auto bridge.
The loop itself is an advantage of this hike, as is its proximity to Bradley Creek during the first couple of miles. A disadvantage is that the trail begins and ends within a campground, which means heavy summer use, and the first two miles are also used by horses.