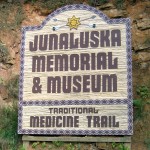 Just a few blocks from the county courthouse in Robbinsville (with directions clearly marked by signs) is the Junaluska Memorial Site, Museum, and Medicine Trail. Junaluska (c. 1779-1858) was a Cherokee leader who fought for both his own tribe and the U. S. Army. According to tradition (and nothing more), Junaluska saved the life of Andrew Jackson at the Battle of Horseshoe Bend (March 27, 1814) in central Alabama, where Jackson defeated the Red Stick band of the Creek Indians and ended the Creek War.
In 1838, when President Jackson ordered the Cherokees expelled from North Carolina, Junaluska was detained at Fort Montgomery, present-day Robbinsville, and forced to march with other Cherokees to Oklahoma on the infamous "Trail of Tears." Two years later he walked all the way back to Graham County and then served as a leader of the Cherokees who had avoided the forced emigration. The state of North Carolina granted him a large tract of land in Graham County (including part of current Robbinsville) and a hundred dollars. Junaluska spent the remainder of his life in the Cheoah Valley.
In 1910, the Daughters of the American Revolution replaced his original grave marker of a pile of stones with a bronze plaque affixed to a boulder. In 1997, the Friends of Junaluska created a seven-sided memorial at the gravesite that included a granite memorial for each of the seven Cherokee clans.
A small museum, supported by the Eastern Band of Cherokee Indians, displays assorted points and other stone tools and illustrates traditional knapping and pottery making techniques. A quarter-mile "medicine trail" provides examples of plants used in traditional Cherokee medicine.