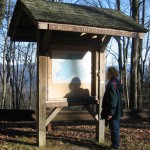 The Haoe Lead Trail, constructed in 1979, originates near the Maple Springs Observation Point, about 4.5 miles from the entrance to Joyce Kilmer Memorial Forest. Beginning at about 3300 feet, the trail ends at Haoe (pronounced HAY-oh) (5250 feet) and the nearby Hangover Overlook (5160 feet) with its magnificent, nearly 360-degree views.
From the Maple Springs road the trail climbs rapidly to the ridge, where there are good views on both sides, including some of the Town of Lake Santeetlah and glimpses of Santeetlah Dam. Haoe Lead Trail is not blazed, its maintenance can be sketchy, and in the summer, it is sometimes overgrown; but anyone with ordinary woods sense should be able to follow the trail. The twelve-mile round trip is doable as a day hike, but it is imperative to get going early in the morning, even in summer.
A "lead" is a long ridge that leads to higher ground, which for practical purposes means great ridge walking but little available water except for trickles in the first couple of miles of the hike. There are a couple of photogenic rock falls that can provide decent picnic tables. Once past the intersection with Jenkins Meadow Trail at about 3.6 miles, the peak is 1.5 miles further with more photo opportunities along the way. The final push to the top is a tough climb of almost 370 feet in the last quarter mile.