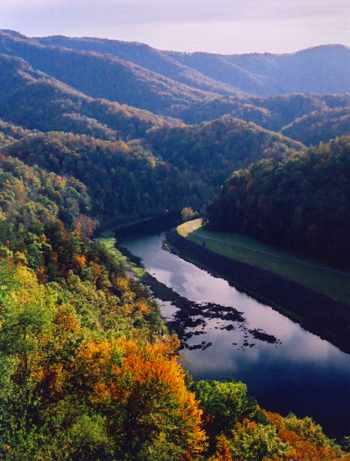 Fontana Dam is the highest dam (480 feet) east of the Rockies. It was constructed between 1942 and 1945 by the Tennessee Valley Authority (TVA), a federal agency, in an attempt to provide hydroelectric power for the war effort. As it turned out, its generators began to produce electricity only a few months before World War II ended.
Fontana Village created for the rushed construction
Roughly five thousand men and women worked in three shifts, around-the-clock, seven days a week to build Fontana Dam. At night, floodlights illuminated the site. So remote was the dam's location in the 1940s that the government had to build a railroad to transport the necessary supplies and a town—the future Fontana Village—to house the workers.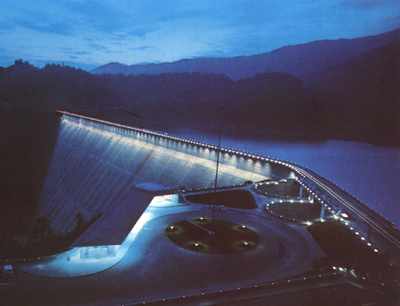 Local families displaced
Mountain families were moved off land that was to become Fontana Lake. Even today, when the lake is drawn down to inspect and repair the dam, ghostly remnants of abandoned towns become visible.
Cracking up
Cracks in the dam were noted as early as 1949. In 1972, cracks appeared in the curved portion, in part, it was discovered, because of the temperature difference between the sun-heated face and a cooler interior. Water was sprayed on the dam as a temporary measure, and eventually the crack was grouted and an expansion slot was cut along the upper portion of the dam.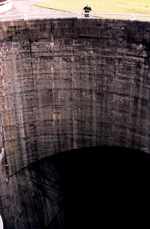 Visitors Center and hiking
The Appalachian Trail runs along the top of Fontana Dam, so couch potatoes can boast of having hiked a portion of the Trail just by standing on the rim and viewing the valley below—or perhaps imagining what would happen if the structure ever gave way. A visitors center at the top of the dam and the powerhouse at its base are often open to visitors. A "funicular tram"—a cable car—that runs between the top and bottom of the dam makes a dramatic ride for children of all ages whenever TVA is able to operate it. Basic amenities and souvenirs are available at nearby Fontana Village, now a vacation resort.
Directions from the Cottage
Fontana Dam is about 20 miles from Lake Santeetlah (north on US 129, then right on NC 28). It's a beautiful drive, even though a bit curvy, and takes about a half hour.