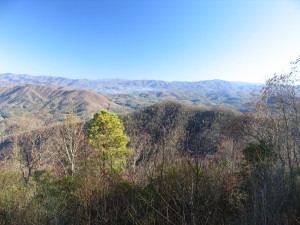 Maple Springs Observation Point, at 3340 feet, is reached via a drive rather than a hike. On a clear day, there are impressive views of Lake Santeetlah, much of the Cheoah Ranger District, and the some of the Great Smoky Mountains.
Take the 4.5-mile drive from the entrance to Joyce Kilmer Memorial Forest to the Observation Point. Intended to be handicap-accessible, the short paved trail to the overlook is hardly even a walk.
This isolated spot is surprisingly popular, and you may not be able to enjoy many minutes of quiet reflection. Nevertheless, we once spent a half hour watching the sun set on a November evening with stillness so complete that we could not even identify the source of the nearly imperceptible ambient sound.
Curiously, the road from Joyce Kilmer runs only to this overlook and to the trailhead of the Haoe Lead Trail and has no other function. Construction on the road began in 1965 as the beginning of what today is the Cherohala Highway. But when Joyce Kilmer Memorial Forest was designated as wilderness, the Cherohala Highway had to be rerouted along the Unicoi Crest. Today the road to Maple Springs Observation Point is literally a road to nowhere. It must be one of the longest paved roads in the eastern United States with no mail deliveries.