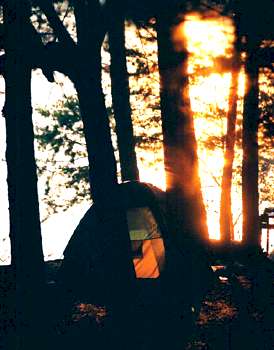 On this page: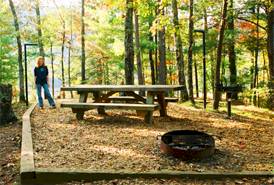 Camping in the Santeetlah Lake vicinity
There are more than fifty primitive campsites scattered around Santeetlah Lake. Although these sites have no toilets or water faucets, the U.S. Forest Service has recently rebuilt some of them to include picnic tables, grills, fire rings, and lantern posts. Camping at primitive lake sites requires no fee or permit, but the Forest Service does ask that you follow certain guidelines.
In addition to the primitive campsites, there are family and group campsites in the lake area:
Cheoah Point Recreation Area
Located adjacent to the lake, less than a mile from the Cottage, Cheoah Point Recreation Area has developed swimming, camping, picnicking, fishing, and boating facilities. The campground, which is open mid-April through October, includes areas for tent and RV camping and has both flush toilets and showers. The nearby Wauchecha Bald Trail provides access to the Appalachian Trail, about 8 miles away.
Horse Cove Campground
Located near Joyce Kilmer Memorial Forest, this campground has 18 units with flush toilets. Four campsites remain open in the winter, although the water is turned off. The campground is beside Little Santeetlah Creek.
Rattler Ford Group Campground
Also near Joyce Kilmer Memorial Forest, this area has flush toilets, hot showers, and four units that will accommodate up to 50 people per unit. There are horse shoe pits and a volleyball court. A beautiful trout stream flows by the camp and rugged, primitive hiking trails are nearby. Reservations should be made at the Cheoah District Office.
The Great Smoky Mountains National Park, about a 45-minute drive from the Cottage, offers "frontcountry" (developed), "backcountry" (primitive), and group camping spots.
Frontcountry campsites have cold running water, toilets, grills, and picnic tables, but no showers or hookups. Fees are typically under $20. You can reserve a spot up to five months in advance for May 15 through October 31. Frontcountry campsites can be found at Abrams Creek, Balsam Mountain, Big Creek, Cades Cove, Cataloochee, Cosby, Deep Creek, Elkmont, Look Rock, and Smokemont.
Group campsites (for at least 8 people) require reservations and charge fees that range from $20 to over $60. They accommodate only tents. Group campsites can be found at Big Creek, Cades Cove, Cataloochee, Cosby, Deep Creek, Elkmont, and Smokemont.
Backcountry campsites require free permits. Reservations are required for all shelters and some tent sites.
For more details, check out the Great Smoky Mountains camping page.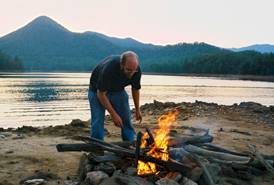 Camping Guidelines
from the U.S. Forest Service. See also Leave No Trace.
Pack it in; Pack it out
Take out all of your trash, then go a step further and take out the trash a thoughtless person left behind. Remember food waste, aluminum foil, cans, and bottles do not burn. Don't leave them in your fire ring.
Be Sanitary
Bury and cover all human waste and toilet paper in a small hole about 6 inches deep and at least 100 feet from any water.
Protect the Water
Never bathe or wash anything in the lake. Scatter wash water well away from the bank. Do use biodegradable soap, not detergent.
Use Established Campsites
Your campsite can cause impact on the environment. Minimize the erosion, siltation to the lake, and trampling of vegetation by using the areas and access trails already established. Remember excess siltation can kill fish.
Protect the Trees
Tree bark, like skin, is vulnerable to disease when damaged. Trees killed by bark damage create a safety hazard and reduce shade, so don't nail into a tree or hang your lantern on a tree.
Be Careful with Fire
Campfires are permitted, but you are responsible for any fire damage. Use existing fire rings. Keep your fire small and make sure it is deadout before leaving. Use only dead and down wood.
Use Existing Trails
Additional trails can cause erosion and siltation to the lake. Stay on the existing ones.
Follow Stay Limits
From Memorial Day to Labor Day you may camp a maximum of 14 days in order for others to enjoy the lake too. In the off-season, the stay limit is 30 days.