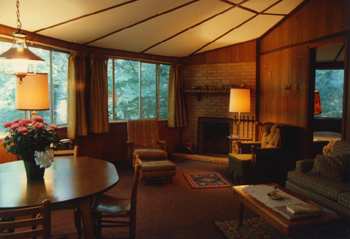 Located in Graham County, North Carolina, the Matzkos' Cottage is nestled at two thousand feet on Thunderbird Mountain, a peninsula nearly surrounded by Lake Santeetlah, a 2800-acre lake in the TVA system noted for its deep, clear water.
Thunderbird Mountain is seven miles north of Robbinsville, North Carolina, six miles from the southwestern edge of the Great Smoky Mountains National Park, and approximately fifteen miles from the Tennessee border. Graham County is relatively undeveloped and has few of the attractions associated with Cherokee (50 miles), Gatlinburg (77 miles), or Pigeon Forge (70 miles)—although these tourist-oriented towns are within driving range for day trips.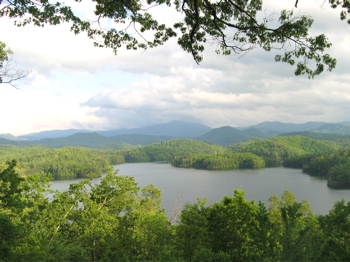 Attractions
The Cottage usually appeals most to "outdoor people," those who enjoy camping, canoeing, fishing, or riding and hiking the hundreds of miles of mountain trails provided by the National Park Service and the U. S. Forest Service in western North Carolina and eastern Tennessee. Fine white-water rafting is also available down the Nantahala Gorge, about twenty-five miles from the Cottage.
Lake Santeetlah: Surrounded by undeveloped national forest land, beautiful Lake Santeetlah offers boating, fishing, camping, and other recreational opportunities.
Great Smoky Mountains National Park: Just a few miles from the Thunderbird Mountain Cottage, the Smokies, the most visited national park in the United States, has dozens of hiking trails.
White-water Rafting: The Nantahala River Gorge, about twenty-five miles south of the Cottage, is one of the most popular white-water rafting destinations in the East. And for the whitewater connoisseur, the Cheoah River, literally within walking distance, has recently become an occasional Class IV rafting experience.