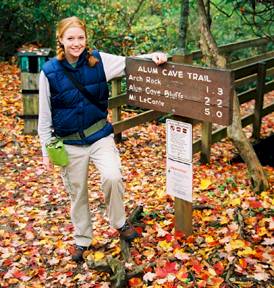 Great Smoky Mountains National Park
It's difficult to say much in brief about the most popular national park in the country. You will usually find U.S. 441, the road that bisects the park, very crowded in summer and during the autumn color season—and pretty busy during much of the rest of the year as well. Some heavily visited areas near paved roads are worth seeing, such as the observation tower at Clingman's Dome and the memorial area at Newfound Gap. You may even be fortunate to arrive on one of the once-a-month clear days that provide the great views more often seen in professional photos than in real life.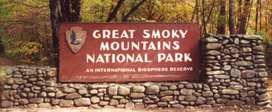 Popular hiking trails
Stop at the Oconaluftee Visitor Center for information about Park Service programs and ranger-led hikes. Popular, if moderately strenuous, hikes with trailheads off U.S. 441 include Mount LeConte, Charlie's Bunion on the Appalachian Trail, and Chimney Tops. Although you will meet a fair number of hikers on these trails, most of the sneaker crowd will not venture more than a half mile from the road. Even short hikes off 441 can be surprisingly quiet. Other popular areas worth visiting include Deep Creek near Bryson City, with its tubing concessionaires; Roaring Fork Motor Nature Trail just outside Gatlinburg; and of course, Cades Cove. But there are also many less traveled paths in the park, and the rangers can point you in the right direction if you are so inclined. The Great Smoky Mountains are a nearly inexhaustible resource for the curious.
See our pages about specific Smokies sites:
Visit these web pages for more information on the Smokies: