Distance: A little over 4 miles to Charlie's Bunion; 9 miles round-trip
Difficulty: moderate.
One of the most popular destinations for day hikers in the Smoky Mountains is Charlie's Bunion, a rocky prominence with extraordinary views. The hike to this overlook covers a bit more than four miles of the Appalachian Trail. Ironically, this beautiful "natural" feature was, in part, created by human indifference to the ecology. After the Kephart Prong watershed had been heavily logged during the 1920s, a wild fire swept up the slopes, destroying the remaining trees and ground cover. Four years later, in 1929, driving rain washed away the soil and exposed the bare rock. Nature writer Horace Kephart then playfully named the overlook for a hiking companion.
Five hours round trip
The hike to Charlie's Bunion is a moderate one, roughly a nine mile round trip, with only a couple of thousand feet of elevation change. The hike itself should take about five hours, but save some time for a picnic at Charlie's Bunion itself if the weather is suitable. The trail is fairly rocky though, and you will need reasonable footwear to hike it successfully.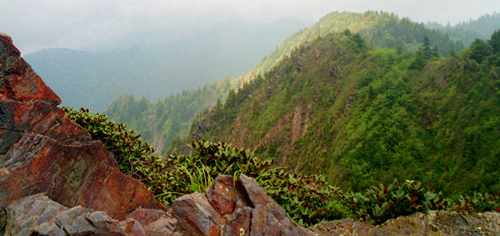 Great views and steep drop-offs
Temperatures at 5000 feet average ten degrees colder than those at our cottage—which can make this hike an especially pleasant one in mid-summer, less so in the spring and fall. On uncommon clear days, there are great views from both sides of the trail. On the other hand, in cold, wet weather, Charlie's Bunion can actually be dangerous because of the sheer drop-off. (Kids may also enjoy raising their mother's adrenalin level by seeing how close to the edge they can come.) Unfortunately, it's common to have to imagine the great views because fog and haze have obscured everything more than fifty feet in front of you.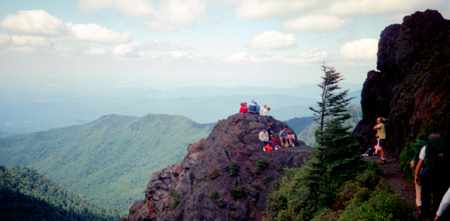 Park at the Newfound Gap trailhead
The Charlie's Bunion trailhead is located at Newfound Gap, just left of the rest rooms. Don't be put off by heavy tourist traffic there or on the first few hundred yards of the trail. Although a hike to Charlie's Bunion will never be an experience in solitude (unless you've made a dreadful miscalculation about the weather), most casual visitors to the park will not follow the trail for more than a half mile from the Newfound Gap parking lot.
More to see & hike in the Smokies
Learn more about the Great Smoky Mountains National Park, or see our pages on other sights in the area:
Alum Cave Bluffs & LeConte Lodge: See the towering cliffs of Alum Cave Bluffs on the way to the views from the Smokies' only "hotel" high atop Mt. LeConte.
Cades Cove: The most popular destination in the Smokies.