In 1987, while attending Bob Jones University, Joy said that she would be my wife. In 1988, I was looking for an inexpensive place to spend our honeymoon. It was either in the "Voice of the Alumni," or on a bulletin board, where I first saw an advertisement for the Matzko's Cottage, at Lake Santeetlah. I contacted Rachel and John Matzko, and made reservations for our first week together.
We thoroughly enjoyed getting to know one another at the Cottage. Our Fall wedding gave us the opportunity to enjoy the mountains in October, with all the splendor of colors. Little did we know at that time, that we were so close to the Smoky Mountains.
We have been returning to those mountains for our anniversary ever since. Though I had made a promise to Joy, that I would "take her away" for our anniversary every year, it was a few years before we got back to the Matzko's Cottage. Our Christian school income allowed us a few anniversaries in a borrowed tent, and a few in cheap motels. However, we can count on one hand the number of times since then, that we have NOT returned to the Cottage. We have been there for many family vacations, and some weekends, as well. Our kids love the place, as much as we do.
There have been changes made in the Cottage over the years, some of them due to the effects of the Second law of Thermodynamics. One of those changes was the installation of yellow tile in the bathroom. A few weeks ago, Dr. Matzko graciously allowed me to update the tile with wainscot paneling. I had a desire to preserve the memories that we have made at the Cottage. In so doing, I saved some of the original tiles, and excess wainscot trim.
I also wanted to somehow give a memorial to Rachel Matzko, who succumbed to cancer in 2009. She and Dr. Matzko spent their honeymoon at the Cottage, back in May of 1976, before they owned it. I know that it held special memories for them, as it does now to Dr. Matzko. As I performed the demo work a few weeks ago, my increasingly infrequent brainstorming planted a seed in my mind. You might say that it was a "light bulb moment!"
To "borrow" from an old phrase, I could combine "something old and something new," and make that tribute in, what I hope will be, a meaningful way. Dr. Matzko provided me with a sketch that Mrs. Matzko had drawn of the Cottage at some point. With a method that I found on the internet, I was able to transfer a photocopy of that sketch to one of the tiles. The frame was made with the excess top rail from the wainscot trim.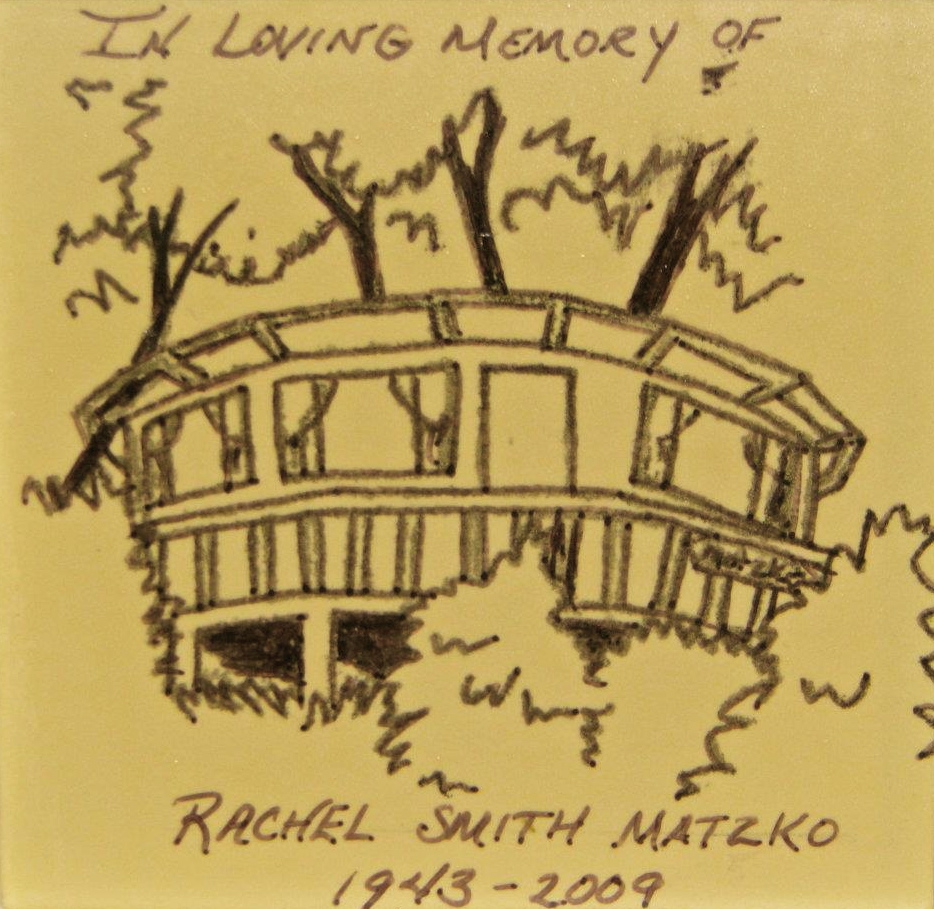 Dr. Matzko, I hope that you will be blessed with many sweet memories of the times that you had with your Beloved at the Cottage. The picture is ready to hang, and I plan on taking it to the Cottage upon our next stay. I had hoped to present this to you, in person, on Sunday, when we take Alec back to BJU for his Missions Trip. However, time constraints won't allow us to do so.
God bless you for your sacrifice, as you continue to serve him there at the University!